Personal statement (NB risk for "dyslexia gremlin"): Since I 1979 learned about Personal Construct Theory and the work of George A. Kelly and his very "covering paradigm" (in many respects) it has been a foundation for all my work within biopsychosocial medicine (although I have called it stress medicine, while many do not know about Biopsychosocial medicine in the multifaceted systems version).
First I will say that according to "my paradigm": Psychology in particular human to human communication in general – scientific or clinical or in private – will not be refined functionally until the tradition of George Kelly (and in turn his references and argument that what he has achieved should be subjected to further development ..) is considered and developed ahead – unfortunately few knows of his Personal Construct Theory from 1955 two volumes – as I should like to express it "where knowledge and real world meet". Below two pages that indicate (!) and underline … (the below can be opened in a new page)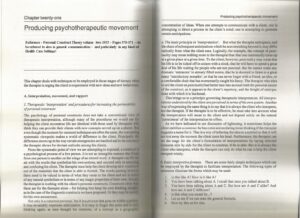 Then; I hope to get time to write about my 40 years of using the platform of Kellian "Man as a scientist" in theoretical, clinical, and personal practice as well as over all the paradigm he express "as a whole". When this happens I will notify here at this page!
After saying the above I recommend reading this link http://webspace.ship.edu/cgboer/kelly.html  while it is a fast way to get some ideas for you who are not familiar with his work.  Also the http://kellysociety.org/ and the book from 2008 by Trevor Butt, http://www.adlibris.com/se/bok/george-kelly-and-the-psychology-of-personal-constructs-9780230008410
There are a number a reasons while PCT is of importance from a systems integrated biopsychosocial medicine discipline (to be established), (i) it is easy to integrated with a evolutionary perspective on our brain development, while also (ii) motivating focus on precognitive, spatial constructs, (iii) his emphasis on man as a scientist (in my actual "version" www.healthcreator.com– not quite well updated) as well as "Patient as an educated, competent resource in her/his own rehabilitation" (manuscript 1997),  but in real also the platform my dissertation rests on 1986, "cognitive and cardiovascular assessment of a multifaceted treatment package for negative stress", where I left out some very important in my work to be able to pass and get my Ph D.
So I am very, very grateful and value very high Kelly´s work, I have since then worked for further develop hits paradigm. December 15th it is 30 years since my dissertation and I plan to write more about how I have further developed it. I have not written much yet dependent of the complexity to write "deeply" out of a scientific perspective. ON the other hand, out a practical (using my toolbox) it is not very complex and sometimes easy for patients to understand basics (biological psychological and social-cultural). Patient populations I have worked with is both at the psychological as well as somatic "side", where e.g. hypertension as I see it some of the easiest. I will encourage psychologist to integrate PCT-thinking with integrated psychophysiological behavioral medicine, www.ipbm.se in an educational systems which can be learned/practiced while working full time with present work. I will add according to my experiences that patients often get happy (!) to learn and this motivated them to work hard, so hard that this is often our problem – not the opposite.
The work by Kelly provided for me a kind of connection between science, clinical work and real world – of survival importance at that time when I moved from music (at worsened immobilized by severe stress (see e.g. introduction in Swedish at www.adhdfonden.com, whee I presented me as PTSD- and ADHD veteran – NB ADHD means really high intense and for me this means energy to learn-work-increase my own knowledge and health hadn in hand!). First a few days ago (2017-05-18) I started to read Trevor Butt´s "Kelly" and there I learned about Kelly him-selves more in detail where I  found more personality characteristics and basic thinking similarities with him than I know before.  I will try to get more time a head to communicate more about while I think the PCT constitute an important platform for practical lifestyle medicine development – together with evolutionary and systems integrated psychophysiological (and sociocultural) medicine/psychology/psychiatry – critical for an effective development and thereby one of the cornerstones for a constructive future for man.
More text will come.